Need a Last Minute Reservation?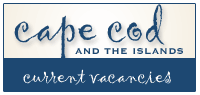 Check out CapeVacancies.com! CapeVacancies.com is updated daily, and has thousands of available lodging options for Cape Cod and the Islands. Choose from bed & breakfasts, hotels, motels and more.
Cape Cod Vacation Planner
Whether you're looking for accommodations, food, or entertainment on the Cape and Islands, we've got you covered. Check here for links to the areas best places to
stay
,
restaurants
to check out, and
local events
.
Where to Stay
From Bed & Breakfasts to campgrounds and cottages, check out
where to stay on Cape Cod
.
Where to Eat
Cape Cod has an amazing selection and assortment of fine dinning, seafood, bars and much, much more. Check out
where to eat on Cape Cod
.
What to Do
There's always something happening on Cape Cod! It's just a matter of locating it. A good place to start is
CapeEvents.com
. Cape Events has a comprehensive listing of local events, which you can search for by date or by type.
Also, be sure to check out our
Cape Cod Nightlife
section for more ideas.