Electric Car Charging Stations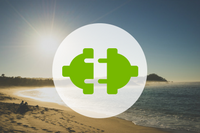 There are many upsides to having an electric car. When it comes to charging them, however, the Cape and Islands is not exactly overflowing with public resources. That being said, there are more public electric car charging stations being added over time.
Looking for information on electric car charging stations on the Cape and Islands we located the SolvingEV™'s database of over 50,000 charging stations. We found that the Electric Car Charging Station Map for Mashpee, MA has 115 electric vehicle charging stations within a 30 mile radius. This map identifies locations for each of the charging stations, along with what type of charging station it is and whether or not there are restrictions for usage.
At the time of this article release, the SolvingEV™ database seems to be the most authoritative resource for this information. If you know of alternative resources, please drop us a line at info@capeguide.com and let us know.